Ayam Bakar Primarasa Surabaya
Siapa yang tidak kenal ayam bakar Primarasa Surabaya? Restaurant legendaris yang menyajikan menu ayam bakar, interior restaurant yang nyaman full AC, dengan harga cukup terjangkau..
Restaurant ayam bakar Primarasa Surabaya sudah cukup lama di kota Surabaya. Menyajikan menu utama ayam goreng & bakar, restaurant ini cukup ramai dikunjungi, baik oleh warga Surabaya maupun dari luar kota Surabaya. Selain itu restaurant Primarasa juga banyak dikunjungi oleh artis lokal Indonesia. Termasuk salah satu restaurant yang terkenal dengan menu ayam goreng & bakar yang lezat.
Sekarang ini restaurant ayam bakar Primarasa Surabaya sudah lebih berkembang, dengan menyajikan berbagai pilihan menu di luar menu ayam bakar & goreng. Terakhir kita ke sana, tersedia menu lain seperti gurami goreng & gurami pesmol. Dan kualitas rasa tidak kalah dengan restaurant lain di Surabaya yang menyajikan menu ikan. Enak menurut saya, dengan harga yang cukup terjangkau.
Ada 3 lokasi ayam Bakar Primarasa, tapi yang cukup mudah dijangkau oleh traveler di pusat kota, yaitu di jalan Kusuma Bangsa. Tepatnya di belakang Mall Grand City Surabaya.
Restaurant grilled & fried chicken Primarasa Surabaya has been opened for a long time in Surabaya. Presenting the main menu of fried and grilled chicken, this restaurant is quite crowded, either by residents from outside the city of Surabaya and from Surabaya itself. Besides that restaurant Primarasa also much visited by local artists from Indonesia. Primarasa is one of the famous restaurant in Surabaya that serves delicious menu of fried and grilled chicken.
Now this restaurant grilled & fried chicken Primarasa Surabaya already more developed, by presenting a variety of menu options outside grilled and fried chicken menu. Finally when the last time we get there, there are other menus such as fried fish and fish pesmol. And the quality of taste is not inferior to any other restaurant in Surabaya, which serves fish. Quite good I think, with affordable price.

There are 3 locations of Restaurant Primarasa Surabaya, but fairly easy to reach by a traveler in the city center, which is on the road Kusuma Bangsa. Precisely behind Mall Grand City Surabaya.
Menu ikan dan lainnya:
Gurami Pesmol Rp. 64.375,-
Bakmi Goreng Rp. 37.500,-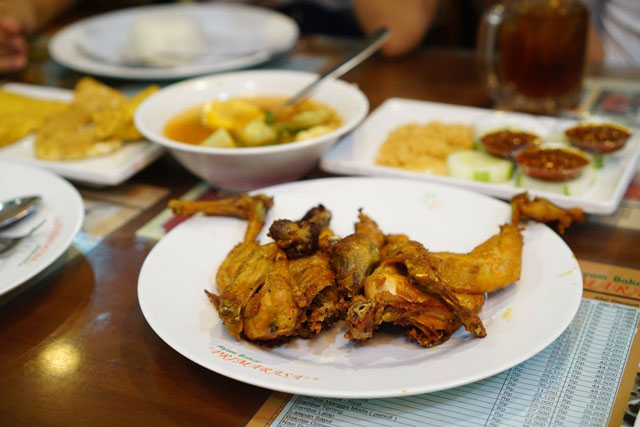 Menu Ayam & lainnya:
Ayam Goreng 1 Ekor Rp. 66.250,-
Sayur Asem Rp. 11.250,-
Menu Penyet & Tahu/Tempe:
Tahu Goreng (3 ptg) Rp. 12.500,-
Tempe Goreng (4 ptg) Rp. 12.500,-
Untuk anda yang suka pedas, tersedia juga menu ayam penyet Primarasa, dengan sambalnya yang cukup pedas.
Ayam Penyet (Paha/Dada) Rp. 21.250,-
* Harga di atas belum termasuk diskon
Ayam Bakar Primarasa
www.primarasaresto.com
Jl. Kusuma Bangsa 3A
Telepon: +62 31 531 3000 / 534 0387
Andy is an architect, who loves traveling & photography. He's also a travel blogger & travel book writer. Follow his Instagram: @archtravelfood & read: About Andy in SurabayaRek