United Steak Murah Surabaya
Sekarang ini mulai banyak bermunculan resto & depot steak murah di kota Surabaya. Tapi mungkin masakan steak yang disediakan lebih ke arah steak model Belanda atau bistik, dengan porsi kuah atau saus steak yang berlimpah. Untuk steak ala Amerika, yang minim bumbu dan mengedepankan rasa & kualitas daging pilihan yang baik mungkin masih jarang. Seperti misalnya Holycow yang mulai booming di Jakarta dan kemudian membuka cabang di Surabaya. Di sini United Steak murah Surabaya hadir sebagai resto steak lokal dari Surabaya, yang menyediakan menu steak ala Amerika, dengan harga terjangkau!
Rasa United Steak Murah Surabaya
Untuk rasa, menurut selera tim #SurabayaRek terhadap steak ala Amerika, yang terpenting yaitu pilihan daging dan rasa bumbunya. Pilihan daging di United Steaks ini cukup OK, dengan daging yang terbilang cukup empuk, tapi mungkin masih kalah dengan steak ala Amerika yang pernah kita makan. Tetapi apabila melihat dari segi harga, United Steak termasuk paling murah dibanding kompetitornya di Surabaya. Pilihan tingkat kematangan daging steak bisa memilih antara medium well atau well done.
Pilihan bumbu ada 3 macam, yaitu:
BBQ Sauce
Blackpepper Sauce
Creamy Mushroom Sauce
BBQ sauce-nya kurang cocok di lidah, tapi ini selera pribadi yah, hehe.. Sedangkan Blackpepper & Creamy Mushroom, cukup enak meskipun lagi-lagi masih kalah dengan resto steak ala Amerika lainnya. Untuk rasa bumbu ini kembali ke selera masing-masing orang, karena ada juga sebagian teman yang suka makan steak tanpa memakai bumbu sama sekali. Hanya daging steak, mungkin ditambah dengan sedikit tobasco dan merica.
Overall bakal balik lagi apabila lagi pengin makan steak murah ala Amerika di Surabaya. Nggak harus nunggu gajian dulu untuk bisa makan steak yang enak, hehe..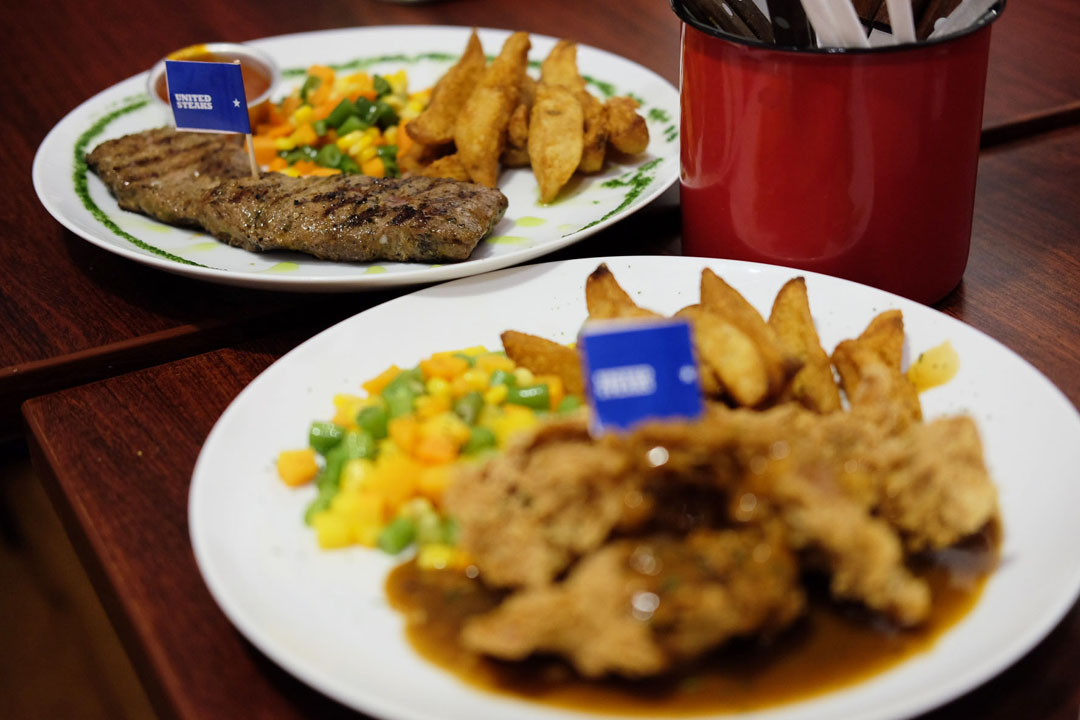 Menu United Steak Murah Surabaya
Untuk pilihan menu di United Steak, ada berbagai pilihan mulai dari:
salad & pilihan pasta
Old Gravy Rooster dan Joe Perry's Chicken untuk menu ayam
Dorry O'Fish untuk menu ikan
Sedangkan main course utama menu sapi yaitu ada The Classic Pepper, Cowboy Steak, New York's Steak, Yellow Cheese Steak, Meat Trio Combo (kombinasi sosis, ayam & sapi), dan menu paling besar di United Steaks yaitu The Big Boy Stackers.
Menu terbaru dari United Steaks, bisa mencoba Prime Rib Eye Steak 200 gram, yang merupakan daging pilihan yang premium.
Harga United Steak Murah Surabaya
Berikut beberapa harga makanan dari menu United Steak yang coba kita pesan di Pakuwon City, antara lain:
Rp. 48.000,- Dorry O'Fish
Rp. 40.000,- Joe Perry's Chicken
Rp. 70.000,- New York Steak
Rp. 80.000,- Yellow Cheese Steak
Rp. 8.000,- Minuman Sprite Botol
Rp. 6.000,- Minuman Mineral Water
Lokasi United Steak Murah Surabaya
Lokasi United Steaks sekarang ini sudah mempunyai 2 cabang, yaitu di barat & di timur Surabaya. Lokasi di Surabaya barat cukup strategis, yaitu di Loop Graha Famili, yang merupakan salah satu pusat kuliner di Surabaya Barat. Sedangkan lokasi di Surabaya Timur agak sedikit masuk ke dalam di perumahan Pakuwon City, yaitu berada di San Antonio Shopping Street.
Weekend kemarin 16 April masih promo 20% di San Antonio Pakuwon City, sedangkan di cabang Loop Graha Famili diskon 20% masih tersedia utk lunch, hari Senin sampai dengan Jumat.
United Steaks
San Antonio N1-35, Pakuwon City (East Sby)
Jam buka: 16.00 – 22.00
085735867047
Loop Kav 28, Graha Famili (West Sby)
Jam buka: 11.00 – 22.00
081322234457
Instagram: @UnitedSteaks.ID
Andy is an architect, who loves traveling & photography. He's also a travel blogger & travel book writer. Follow his Instagram: @archtravelfood & read: About Andy in SurabayaRek